The deluxe version of the mailing campaign. So that decision-makers hear what moves you.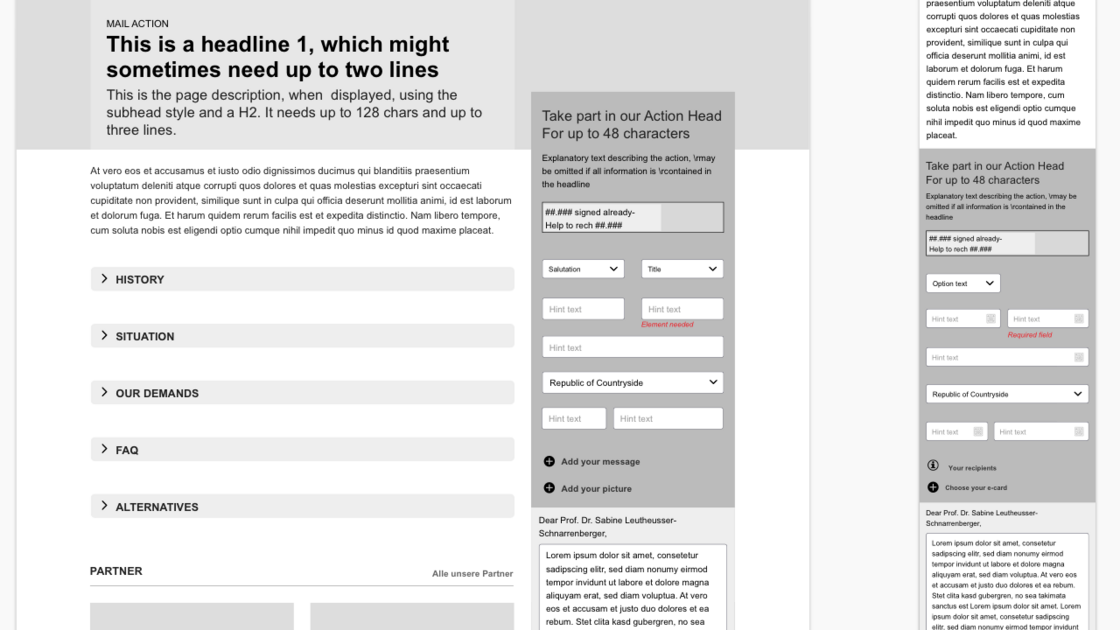 Enables you to participate in a mail campaign. Optionally with individual text and as an e-card.
Functionality:
Page type "Action" with largely hidden menu and marginal column (in desktop view) in which the participation form remains "sticky" in the viewport.
Display of the number of participations (default setting: hidden)
Creates a website visitor date record - if one does not already exist for the specified email address.
Saves the mail action participation as a data record with the ID of the action page and the ID of the website visitor on the action page or, if applicable, on another action page (see Multiple Form Management option).
Any deviating personal data in the webiste visitor record will not be overwritten by petitions and mail campaigns.
Support can be evaluated and published either immediately or only after clicking on a link in a confirmation email sent to the specified address ("double opt-in"). We recommend this especially if the petition text can be individualised. (Default setting: activated)
After clicking the confirmation link or, if the login is deactivated, directly after submitting the form, a specific thank you page can be selected as the conclusion of the action.
Optional functions:
Mails can optionally be sent immediately, collected daily or collected weekly.
Campact interface: Participation numbers can be delivered to an external counter and the total number can be retrieved from there. If the service is not available, the last number retrieved is saved.
Multiple Form Management: Participations can be collected via several forms, but added up to one number of participations.
E-card: In addition to the text, a picture motif can be selected and sent to the recipient(s).
Petition texts can be individually revised or supplemented. Individualisation via parameters selected by visitors is also conceivable (via regional or personally individualised text modules).
Entries can be checked for inappropriate wording before they are sent (badword feature), thus making misuse more difficult.
---
This feature is based on this extension:
wwt3_support
Has already been used in the TYPO3 versions:
8